We are about to launch a new, free, integrated Email / Calendaring system initially for Linux and called Orbit Communicator. Although developed as a reference application to demonstrate the Orbit development framework, Orbit Communicator stands as a comprehensive product in it's own right providing another alternative for Linux desktop users who want to keep all their messages in one place on their own workstation.
With a Vue.js front-end and Python back-end Orbit Communicator also runs on MacOS and in theory also Windows, so we are hoping to produce cross-platform options as things progress. Currently the Beta is available as a .deb package for Ubuntu 22.04.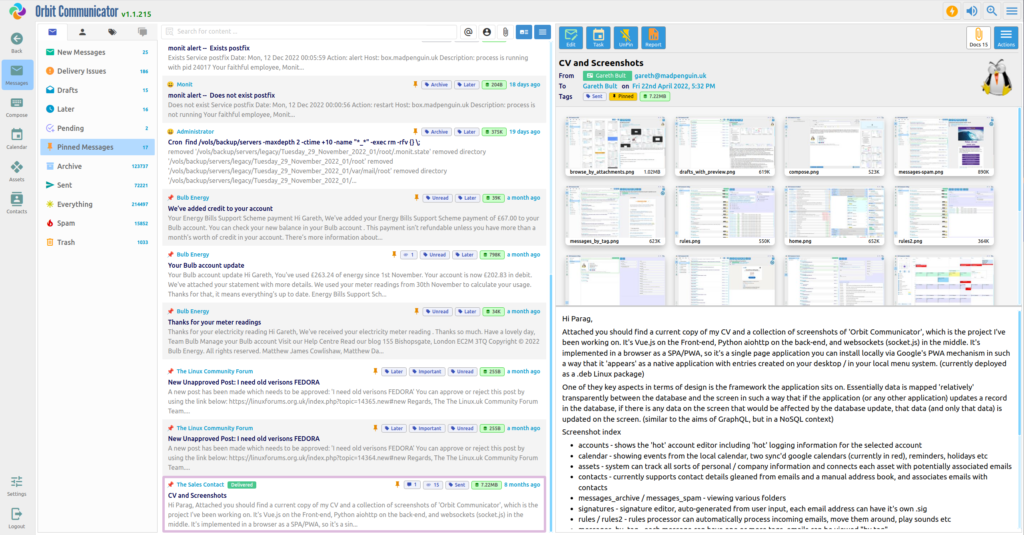 Many of the features you might expect are included, but also some unusual options made possible by the underlying technology. For example as well as browsing emails by envelope headers (shown) you can also browse emails by attachment thumbnails, and the thumbnailer supports a variety of file formats including images, PDF files and Office documents. We also includes various opinionated workflow features, the ability to browse email by contact, global full-text search, a local asset store which allows you to attach email / contacts to assets etc.
For more information, keep an eye on https://orbit.madpenguin.uk …